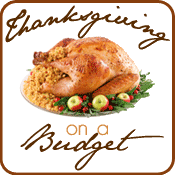 While all of the other recipes we actually made ahead of time so we could share pictures along with the recipes, Erin and I decided against actually making a turkey ahead of time. However, we wanted to share some great links we found to help you in making your turkey and also some ideas and suggestions for getting a great deal on a turkey.
Buying a Turkey
Most stores are running sales on turkeys right now so it's a great time to buy turkey. The rule of thumb is to buy a bird that is as many pounds of meat as persons you are expecting to be at your Thanksgiving meal. So if you're planning to have 15 people at your Thanksgiving dinner, you'll want to buy a turkey that is somewhere around 15 pounds. I'm sure you could squeak by with a few pounds less, though, without anyone noticing.
Check around to all stores in your area before buying to see which store has the best deal. Many stores also offer a discount or even a free turkey if you spend a certain amount in one transaction the week of Thanksgiving or the week before Thanksgiving. These deals are great to take advantage of, provided you will actually already be spending that amount of money.
Cooking a Turkey
There's a great step-by-step photo tutorial from The Pioneer Woman here on roasting a turkey. And here's lots of helpful information on roasting a turkey from Butterball–and there's even an instructional video you can watch.
If you're having a smaller gathering for Thanksgiving and want to keep it simple, you might consider just doing turkey breasts in the crock pot. Click here for detailed instructions on how to do that.
Looking for something a little out of the ordinary to do with your turkey? You could consider deep-frying it or grilling it.
Making the Gravy
You can make gravy with the pan drippings (see recipe here) or with the giblets (see recipe here). If you've never made gravy before, check out The Pioneer Woman's photo-rich instructions here.
Stuffing: Do You Really Need It?
Okay folks, here's where my simplistic nature comes into play: I don't really think stuffing is a must. I mean sure, most folks serve it as a sort of obligatory part of the Thanksgiving dinner every year, but if you're trying to keep things easy, it is something you could skip.
Now I know some of you are probably thinking I'm nuts. If so and stuffing is something your Thanksgiving menu would not be complete without, then by all means go for it. I'd say to save yourself the trouble of actually stuffing your bird and to just make a pan of it on the side. Use your family's favorite recipe (if you have one), find the boxed mixes on sale and spruce them up a little, or try out The Pioneer Woman's recipe here (her recipe looks great but isn't very budget conscious).
I'd love to hear from you: What are your best ideas for buying an economical turkey? How do you usually cook your turkey? And do you consider stuffing an essential Thanksgiving menu item?
Up next: Our Sweet Potato casserole and Make-Ahead mashed potatoes