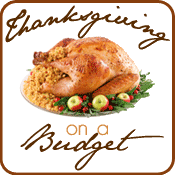 Erin, Monica,
Jessica, Amy, and I hope you've enjoyed the ideas we've shared this week for the
"Thanksgiving on a Budget" series. Our main goal was to show you how
you could create a simple Thanksgiving celebration for your
family without spending a fortune to do so.
To recap, here's what we shared:
A Hassle-Free Method for Cooking Your Thanksgiving Turkey
My Favorite Dinner Roll Recipe
Maple-Roasted Butternut Squash and Almond Pecan Pie
Eye-Pleasing and Inexpensive Food Presentation
Setting a Beautiful Table and Cultivating a Thankful Heart
While
I'm sure not all of the recipes or ideas would be something you
might use for your Thanksgiving celebration, we hope what we've shared
will inspire you as you seek to have a memorable Thanksgiving
celebration for your family this year.
I'm positive we've only
barely scratched the surface when it comes to Thanksgiving ideas,
though, and that's why today is the day for all of you–my wonderfully
creative readers–to chime in with your own ideas for celebrating Thanksgiving on a Budget.
The
floor is yours! Share your favorite recipes, helpful tips, ideas for
simplifying the Thanksgiving menu, decorating how-to's, or special
traditions your family has. If you have a blog, post about it on your
blog and leave the direct link to your blog post below. If you don't
have a blog, feel free to leave your ideas in the comments section.