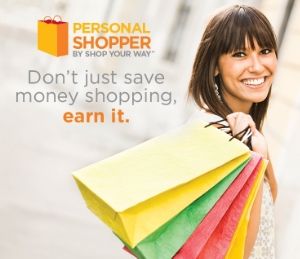 We're excited to have Sears as one of our monthly sponsors in November. We had the opportunity to interview them and get to know their company and their Personal Shopper program a little more recently:
Tell us about the history of Sears and the Personal Shopper program.
Sears is most likely a household name. Sears Holdings offers a lot of great brands, products, and services. Sears, Kmart, Lands' End, are our retail stores with well-known brands such as Craftsman, Die Hard, Kenmore, Ty Pennington, and Sandra Lee.
In 2012, we introduced the Personal Shopper program as an added benefit to our Shop Your Way members. The program is member curated and is a free service to Shop Your Way members.
Personal Shoppers are available to assist their clients, primarily online, when looking for gift ideas, fashion inspiration, and decision-making assistance on any purchase. The Personal Shoppers do not do the actual buying, but rather help the member to research and select the perfect product.
As an added benefit, Shop Your Way members earn points on all eligible purchases that can be used for future purchases. Members also receive special savings and added benefits.
What product or service does the Personal Shopper program offer?
Personal Shoppers help members save time and money by being available to them to help recommend products. They also inform their clients about great services and additional saving opportunities that Sears and Kmart has to offer. In return, they earn a commission off all eligible sales.
The main focus on Money Saving Mom® is saving money and making our dollars stretch. How does the Personal Shopper program help us to do that?
As a Personal Shopper, you get clued in and informed about great savings events and hot deals available at Sears and Kmart. Like saving $0.30 a gallon on gas.
You can also learn about services we offer that help save time too! For example, we have a service called MyGofer available at select Kmart stores. This service is similar to Peapod in that we offer home or office delivery (in select regions) in addition to curbside pick-up service for all things housed within a Kmart! Personal Shoppers not only learn about these great savings, but they can take advantage of them as well.
In addition, as a Shop Your Way member, you not only save on great everyday products, but you also earn points back on your purchases. Those points add up quickly and can be used to take money off your very next purchase.
Does Sears do any charity work in regards to the Personal Shopper program that you'd like us to know about?
We have a couple Personal Shoppers who represent various causes. For example, one Personal Shopper in particular has a special needs son. She is a Personal Shopper and promotes the program to her family, friends, and community as a way to raise funds for her sons' medical treatments.
We also have an early education program participating in the program as a Personal Shopper. The school promotes the program to their families as a way to raise funds to add technology to their classrooms.
Is there anything else that you would like for Money Saving Mom® readers to know about the Personal Shopper program?
We also offer an invite only Concierge Personal Shopper program for our most engaged and top performing Personal Shoppers. Concierges earn a higher commission rate plus a weekly stipend. As a Money Saving Mom® reader, we'll automatically send you more information about the program.
Just sign up to be a Personal Shopper and we'll send you an email within 24 hours about our Concierge program.
Interested in becoming a monthly sponsor or advertising with us? Find more details here.