I'm so excited because my friend, Stacy, from Humorous Homemaking just launched a brand-new course called Home Management How To.
Here's what you need to know about Stacy: she's basically a home management rockstar to me. Also, she's funny and real and incredibly down-to-earth.
I've long admired how she has such great systems in place for running her home and family. I also love how she keeps things so simple and manageable.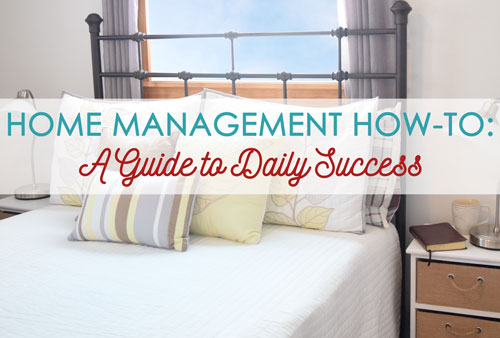 She's such a champion of women and their success as homemakers. And it shines through in her brand-new course called Home Management How To.
In this course — through videos, outline and notes, photos, and helpful links and resources — Stacy will teach you how to:
Create a realistic routine for your family – based on your needs.
Overcome laundry overwhelm with a simple plan of attack.
Tackle your paperwork clutter and get rid of the piles.
Make the best and most efficient use of your time each time you leave your home.
Enjoy a clean, organized kitchen and employ an arsenal of tips to feed your family well.
Develop a cleaning routine that will help you maintain a neat and tidy space.
Build in purposeful time to get ahead and prepare for busier seasons.
Rest!

Join my FREE Private Facebook Group!

I've been going through this course myself and am loving it so much and finding so many great ideas that I decided to invite you to join me in a private Facebook Group where we'll share encouragement, inspiration, and accountability as we go through this course.

We'll start going through the course together on Tuesday (March 7) and will take two weeks to go through the course. I'll be posting each weekday what I'm learning through the lessons and how I'm applying them in my life. And then I'll encourage you to jump in and do the same.

The Facebook Group is FREE to join! All you need to do is purchase Stacy's course here (you can sign up for either level one or level two) and then request to join the private Facebook Group here.
I hope you'll join me on this journey as we seek to get our homes and lives in better order!
P.S. Any questions? Leave a comment or shoot me an email!
This post may contain affiliate links. Read my disclosure policy
here
.
Subscribe for free email updates from Money Saving Mom® and get my Guide to Freezer Cooking for free!