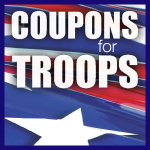 Toni from The Happy Housewife emailed me information on her program, Coupons for Troops, and I was very excited to share this with you as I think many of you would be interested in participating! She is especially looking for more military families stationed overseas who would like to be the recipients of expired coupons. Here's what she wrote:
Coupons for Troops
started in 2008 with the goal of providing
expired and non-expired coupons to military families stationed
overseas. The prices in overseas commissaries are significantly higher
than those in the States and military families do not always have
access to coupons in newspapers and inserts. Military commissaries
overseas accept coupons up to six months past the expiration date.
Military Commissaries accept manufacturer coupons as well as
internet printed coupons. The Commissary is a grocery store so only
"grocery" coupons are needed. Families cannot use store specific
coupons (i.e. Target, Walgreens, Kroger).
Those who participate in Coupons for Troops are assigned an
overseas military family. Coupons, which do not need to be sorted, are
then sent directly to the assigned family. All overseas military
families have FPO or APO addresses so mailing coupons costs the same as
if you were sending them stateside. You can send as many or as few
coupons as you have available. Please only send coupons that have been
expired 3 months or less in order to give the families time to sort and
use the coupons.
If you are a military family stationed overseas and would like to receive coupons I would love to add you to the mailing list.
If you are interested in learning more about this program or in receiving coupons, please contact Toni if you are interested in learning more about this program or receiving coupons.