Earlier this week, I got a message from Erin who blogs at Simple Purposeful Living. She's one of my Mastermind members and she was messaging to tell me how grateful she was for the Mastermind.
Erin said she is in the middle of a product launch and she told me how she realized that ever since she joined Your Blogging Mastermind, her email list has grown by 100 new subscribers each month.
It made me so thrilled to hear this. THIS is why I started Your Blogging Mastermind!
I am so passionate about helping newer and longtime bloggers take their blog to the next level. I want you to make a part-time or full-time income from blogging.
I want you to be in a place where you can pay off debt, have more wiggle room in your budget, be able to save more and give more. Most of all, I want to help you use your gifts and talents to bless and impact others.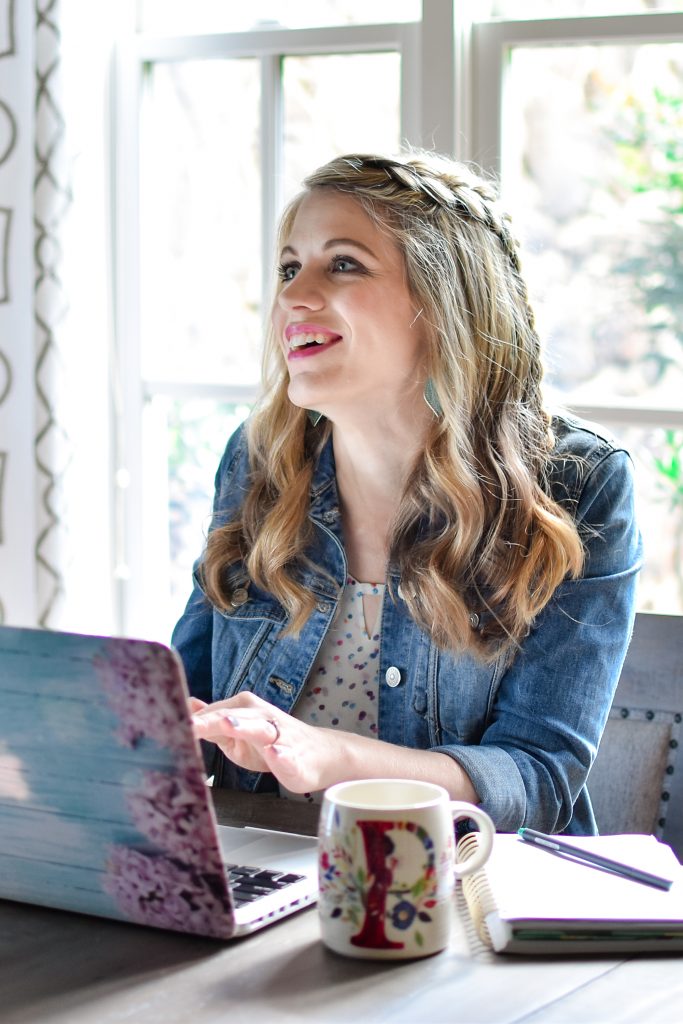 This is More Than One-On-One Coaching
I have had a lot of people approach me over the years about offered one-on-one coaching.
While I offered one-on-one coaching for awhile, I quickly realized that I wanted to do more than just offer coaching; I wanted to provide a place for bloggers to network, encourage one another, ask honest questions, share real feedback, and provide accountability for each other.
And thus, Your Blogging Mastermind was born! We launched in January to a 100 people as a beta test.
I had hoped to open it up to more people, but I wanted to make sure my idea would work well and would be really beneficial to everyone who participated. I have absolutely loved getting to coach and encourage and cheerlead these 100 bloggers.
And I've loved hearing stories like the one I shared above from Mastermind members who are seeing real growth and results from what they are learning in the coaching sessions and the interactions with other members.
Which is why I am super stoked to be opening the doors to the public this week and inviting you to join Your Blogging Mastermind!
(Note: The Mastermind is only open to members this week and there are limited spots available.)

Can I Help You?
If you are a blogger, I want to come alongside you and teach you how to:
increase your traffic and engagement online
significantly boost your blog income
produce better and more consistent blog content
rediscover your joy and passion for blogging
create products that will serve your audience
build and nurture a thriving email list
still have a life outside of blogging.
I also want to provide a place for you to network with other bloggers, build relationships, and get real-time feedback, critique, and encouragement.
If this sounds like something that would benefit you, I'd love to have you join Your Blogging Mastermind! It's only open to new members this week.
Registration for the Mastermind closes on Saturday evening at midnight (April 27, 2019). After this week, we won't be opening it up again until the end of summer.

What You Get When You Join…
When you sign up for Your Blogging Mastermind, you'll get:
2 one-hour LIVE group coaching video sessions with me every month. These are a mix of me teaching, me bringing on members to share feedback (sort of like a "hot seat"), me critiquing your blogs and posts (I'll give you opportunities to submit yours for some of the live video critique sessions), and me answering your burning blog-related questions. I may bring on an expert from time-to-time to guest teach on a topic where I don't have a lot of experience.
An invitation to an exclusive private social media platform (on Mighty Networks) for interacting with me and other 

Mastermind

 members. I'll be in this forum a lot — answering your questions and engaging with you. Plus, it will be a place for you to ask your questions, get feedback, get to know other bloggers, possibly cross-promote each other, and share you blogging struggles and victories.
Access to all previous live coaching videos. You'll get 3 months' worth of live coaching sessions on topics that include how to monetize your blog through freebies and tripwires, how to write affiliate posts, product emails, and launch pages that convert, and how to effective use instagram to explode your engagement.
A free ticket to a yearly one day Blog 

Mastermind

 in Nashville with me and other members of the group (you'll just need to cover your travel costs; there will be no cost for the event!)
Are you ready to take your blog to the next level, grow your email list, increase your income, and become more strategic on social media?
If you're still on the fence, leave a comment and let me know what's holding you back. I'd love to help answer any questions or concerns that you have.
P.S. Your Blogging Mastermind membership is on a month-to-month basis… and you can easily cancel at any time. There is no contract or obligation! This Mastermind is for those who are already blogging. If you haven't started blogging yet and are interested, be sure to check out my free online blog class to help you get your blog up and running!