Living Simply
Shannon from Adventures of a Crazy Life shares how she stretched one package of chicken to last for four dinners. Some great ideas and suggestions!
Welcome to December's series on 31 Days of Giving on a Budget. In this series, I'll be sharing inspiring stories from my readers and posts with practical ways to give — even on a limited income.


If you have a Giving on a Budget story to share of a way you or your family has given to others this year or this holiday season, please email me your story (or a link to your post on your blog) and a picture to go along with it, if possible. I'd love to hear it and possibly share it during this series!
We had the incredible opportunity of getting to have Chris Seay and his cameraman come to our home for a short visit earlier this year. Chris is a pastor, author, and a man with an amazing heart for the poor. I was so blessed and inspired to meet him and get to hear a little of his heart.
Chris has traveled all over the world to visit those living in poverty. He's seen suffering beyond what most of us could even begin to fathom (some of the stories he shared just blew my mind!). But he's not just witnessed the poverty, he is actively seeking to live a life of walking with the poor–sacrificing his own comforts and wants in order to reach out to those in desperate need.
In his book, A Place At the Table, Chris issues a challenge for us to not just talk about the dire needs and poverty around the globe, but for us to actually walk with the poor. His book challenges readers to consider a 40-day fast from excess.
In the short video below, I share about two books that have impacted me recently when it comes to giving and living a simple life and Chris shares more about his heart for the poor:
For more video clips from my interviews with Chris, be sure to check out the following links:
What a 40-Day Fast From Excess Might Look Like For Your Family

Can My Small Efforts Really Make a Difference?
After way too many months, I finally finished the scarf I've been slowly working on knitting. Yes, I may be the world's slowest knitter, but I'm really happy that I actually finished it.
Now I'm going to try and make mini matching scarves for both of the girls… and I'm hoping that I actually finish them before their high school graduations.
Actually, I'm shooting to finish them by Christmas, but I may be shooting for the stars considering my current knitting pace track record. I'll keep you posted!
Are you working on any craft projects right now? Have you finished anything recently that you've been working on for a long time? Tell us about it in the comments!
I cut into a few oranges planning to serve them for lunch yesterday. But all three of them were way past their prime.
So I used two of them to make Homemade Christmas Potpourri (it takes less than two minutes to make! Did you see the recipe here?) and I used the other one to deodorize my garbage disposal. Yes, really.
Just cut the orange in fourths (or smaller pieces if you have an older garbage disposal — you don't want to risk hurting your disposal!) and stick it down the garbage disposal, turn it on (while the tap water is running, too!), and let it run for 30 seconds or so until it's completely ground up and washed down.
(Update: Some of my readers suggested adding some ice and baking soda, too, to further help clean and deodorize your garbage disposal — great idea!)
The orange peel cleans the disposal, kills the odors, and leaves your kitchen smelling all fresh and wonderful — all without using any harsh chemicals or elbow grease!
If you don't have an orange that needs to be disposed of, you can also just use the orange peel or do the same trick with a lemon or lemon peel.
Find more quick and simple ways to deodorize your garbage disposal here.
I'm over on Hope for Women talking about Savoring the Holidays — Even on a Limited Budget. Here's a snippet of my article:
Just because you have a tight budget does not mean you can't enjoy Christmas. In fact, you might find that you enjoy the holidays even more when you don't have a lot of money to spend. It forces you to slow down, simplify and get creative.

Give Experiences vs. Expensive Gifts

If you don't have money in your budget to give your children expensive gifts, that's OK! Focus your energy on making special memories together.

Check out Christmas movies from the library, listen to Christmas music on the radio or on Pandora, play board games, pop popcorn and make hot cocoa, and drive around and look at Christmas lights. Laugh together, talk together, be together. I promise these are much more important in the long run than being able to afford some high-dollar toy.
Feeling frazzled and stressed over a long to-do list for December? I'm over on MomLifeToday talking about three ways to simplify the holiday season.
Here's a snippet of my post:
December can be a busy, frantic season full of last-minute shopping, parties, baking, gift-wrapping, recitals, and get-togethers. While these things can all be memorable and special, it's important that we not lose sight of what's most important at Christmastime: celebrating the birth of our Savior and savoring the moments and memories.

Here are three ways to help you streamline your life and responsibilities so you can enjoy Christmas more this year:

1. Pare down your gift-giving.

Evaluate your gift list: Do you really need to give a gift to your uncle's neighbor's dog? I'm pretty sure Fido will survive just fine without another fancy chew toy, so save your money and use it to buy gifts for those you really care about or want to bless.

Creating limits for how many gifts you buy helps to simplify things. I know some families who give their children three gifts in three different categories (such as: something to wear, something to read, and something fun)…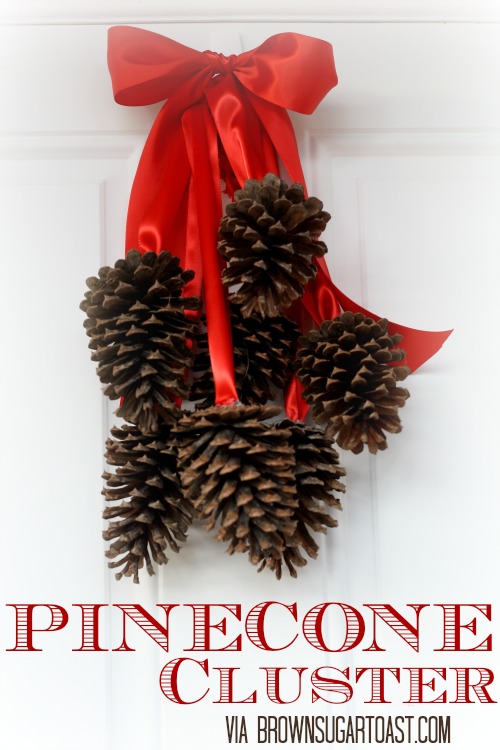 BrownSugarToast.com shows you how to make handmade Pinecone Cluster.
Have you blogged about a Handmade Christmas idea? Submit the link through this form here and we'll consider sharing it as part of this series during the next 4 weeks!
Whisk It Together shows you how to make a handmade Magnetic Notepad.
Have you blogged about a Handmade Christmas idea? Submit the link through this form here and we'll consider sharing it as part of this series during the next 4 weeks!
Today is a day when we celebrate our blessings and reflect on all the wonderful things we have to be thankful for. It's a good thing to stop and express our gratitude — we all have much to be thankful for.
However, some of you are probably really struggling this Thanksgiving. Maybe your husband recently left you, or your child has been diagnosed with a terminal illness, or you are battling an addiction, or your finances feel like they are in shambles and you are just digging yourself into a deeper hole because of unemployment and ever-mounting bills.
Life is hard and messy sometimes — and just because it's Thanksgiving doesn't mean that the pain and burdens are lifted. If this Thanksgiving finds you in a difficult place in life, may I encourage you to read my post on Hope for Women Magazine on Choosing to Be Thankful Even When Life is Hard?
Here's a snippet:
My husband was rummaging through old financial statements not too long ago, and we were aghast to read some of the numbers. During the first year he was in law school, there were six months when we made less than $900 — and some months it was as low as $650.

I recall that season of our lives fairly vividly, but seeing those numbers on paper again after a number of years was a shock to our systems. I'm still not sure how we made it on so little!

During those years, we lived in a little basement apartment that only had four windows on one side. I could plug the vacuum cleaner into one outlet and vacuum the entire apartment without ever switching outlets…Click on over to read the full post.
Our struggles during the lean law school years pale in comparison to many of the struggles you are facing. But I hope that the words I shared might encourage some of you.
Don't lose heart. Don't lose hope.
Choose gratitude today — even when it feels impossible. It might not change any of your circumstances, but I promise that it will transform your attitude and lift your spirits.
Homemade apple pies ready to go in the oven this morning… yum!
A Heartfelt Word of Thanks to Each of You

By the way, can I just say thank you to each of you for everything you mean to me and how you bless me on a daily basis?

Thank you for your kind words and constructive criticism. Thank you for reading here, commenting, and emailing. And thank you for sticking with me and putting up with the fact that I'm often behind schedule in my blogging commitments because life has taken precedence or I've just bitten off more than I can chew (I'm working on that one; it may be a lifelong lesson, though! )

As those who know me well can attest to, my years of blogging have been a journey of growth, learning, and stretching for me. It's not always been easy and I've made oh-so-many mistakes along the way, but God has taught me much through it and changed me from the inside out as a result of blogging.

When I began blogging back in 2005, I thought I pretty much had life figured out. Now, 7 years later, I feel like there are very few things in life that I have figured out, but I know one thing: blogging has been the catalyst for life-transformation for me.

It's brought me from a place of insecurity, legalism, and being a people-pleaser to a place where I feel whole, free, and truly happy in who God has made me to be and what He has called me to.

And you've been a part of that journey with me.

Someday, I may be ready to blog more about all that life transformation, but for now, I just want to say THANK YOU from the bottom of my heart. Words cannot express how much you mean to me and how much I've learned and grown as a direct result of each of you.
We've talked about a lot of ways to earn extra cash before Christmas in this series. Many of you have written in and shared stories via email how you've implemented the ideas successfully! That makes me so happy to hear!
Before we close off this series, though, I wanted to end by talking about the flipside of earning extra cash. Because it is even more important than earning extra cash when you have a strapped budget.
The Flipside: Managing the Money You Already Have
If you earn more money, but you don't manage it well, your bottom line isn't going to change. Instead, you'll just end up spending more than you used to — and no financial traction will be gained.
If you're struggling financially, can I encourage you to first focus on getting on a written budget and maximizing the mileage of the money you already have before you go out and try to make more money? Not only will this help you to achieve better financial traction if your income increases, but you might find out that you don't need a pay increase in the first place — you just need to manage what you already have!
The Best Way to Save Money: Stop Spending It
I've got a surefire, proven method to help you save more money. This method has been concocted from years of my own personal experience and years of observing other people's money management.
It's very simple: Just. Stop. Spending. It.
It works every time.
Yes, you definitely need to spend money on necessities like making sure everyone has warm clothes to wear, food in their bellies, and a roof over their heads. But beyond that, there's very little that we actually need to survive.
There are many things that make survival more comfortable or enjoyable, but when we boil it down, many of these things would be considered incredible extravagances to most of the world.
Our culture is constantly sending us messages that we "need" this or that. Tune out those messages and train yourself to focus on the blessings you already have. Buying more stuff might give you short-term enjoyment, but it will never satisfy you long-term.
Two Things to Do Before Trying to Increase Your Income

If you're feeling financially strapped this Christmas, make sure you're already doing these two things before you put time and energy into increasing your income:

1) Commit to getting on a budget and sticking with it. It'll be the best Christmas present you've ever given yourself and your family.

2) Be content with what you already have. "Gratitude turns what we have into enough."
I'll be posting a lot of the best deals I find this weekend to help you save money on Christmas presents, but I want you to keep these things in mind before you buy anything. Evaluate every purchase to make sure it's a good deal for you and your gift recipient. Don't buy something if you're not completely sure that it's going to work or if it's not in the budget, okay?