If you're looking for simple and legitimate ways to stretch your Christmas budget just a little further, you've come to the right place! By participating in just a couple of these activities each day, you can add a pretty significant amount of cash to your Christmas budget!
Take Surveys
While participating in surveys won't make you rich, it is a great way to make a nice little side stream of income if you have extra time on your hands.
It takes a little while to learn what types of surveys you enjoy most and which ones are worth the effort. If you're patient, persistent, and thorough, you will definitely earn some money. Don't get discouraged if you end up spinning your wheels and not making a lot of progress in the beginning. Stick with it and you'll get a much better grasp on where the best return on your investment of time is when it comes to surveys.
Hint: Be sure to use a separate e-mail address for your survey companies. Your inbox will be very full with surveys, and you don't want it clogging your regular inbox. Plus, it makes it much easier to set up a separate email address for all your survey companies, so that you can just log into your inbox once per day and read through the emails/take the surveys versus having to wade through your regular inbox to find all of the survey opportunities.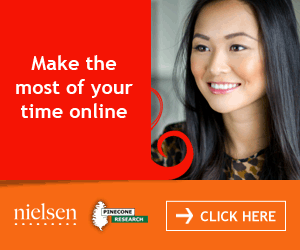 If you're looking for legitimate survey companies to sign up with, here are the tops ones I recommend:
1. Pinecone Research – This one is my favorite survey company, because I've found that it offers the most surveys for the best pay — $3 for each survey completed. This one can be competitive to get accepted into, but they have currently opened their doors to more of a general population for a limited time only! Go here to apply and get started.
Reader Ali shared her testimonial on Facebook: "I love Pinecone. It's what helps with my Christmas Stocking shopping. I earn around $200-$250 per year!"

And Amy shared her great experience, too: "I have been using Pinecone for several years now, and I make about $100-$150 per year. It's a great income booster."
2. National Consumer Panel – If you are accepted as a panel member, you will be sent a small hand-held scanner and will scan all the bar codes of everything you purchase. Once a week, you'll transmit this information to Nielsen and you'll earn points that can be redeemed for a variety of items from the Nielsen Gift Catalog — including Amazon gift cards!
Reader Gloria wrote in with this testimonial: "I have been a National Consumer panelist for over 10-years. I save all my points and redeem them around December each year. This way I can use the gift card to purchase Christmas gifts."
3. Opinion Outpost – This reputable survey company pays in point rewards for every completed survey. You can choose to get paid at $5 for an Amazon gift card or at $10 for cash.
4. Swagbucks: The best part of this site is how easy it is to cash out. Save up your points if you want, or redeem for a $1, $3 or $5 Amazon Gift Card right away! Get paid $0.50 to $50 per survey, depending on how long it takes you, plus a $3 bonus for signing up. Swagbucks will also pay you to watch videos, try products, shop online, and even search the web (see below). Go here to sign up.
5. Inbox Dollars – You'll get paid to read emails, search the web, take surveys, and more. I loved earning free gift cards from Inbox Dollars when Jesse was in law school and I had a lot more time than money.
6. MySurvey – This is another survey company I've used and earned money from in the past. You can redeem your points earned for cash or prizes and every 1000 points equals $10.
7. Harris Poll Online – This is another easy way to earn gift cards for taking surveys, and I love what a reader Jessica wrote in and had to say about this company:
"I recently joined Harris Poll Online. It's a survey site that does not require anything except for you to register. It finds short surveys based off your profile you create, and they can range from 15 to 300 points. When you sign up they give you 50 points immediately. I have used the site for just about a month and have earned a little over 1250 points which amounts to a $10 Amazon gift card. Most surveys take less than 15-20 minutes and can be done on your mobile device. I am a SAHM and always looking for ways to earn money and contribute financially to my family!"
8. Toluna – When you sign up for Toluna, you will receive 500 points to welcome you to the site. When you have earned at least 60,000 points, you may redeem your points for a cash reward.
Other Easy Ways to Earn Each Day
1. Swagbucks – If you've been following my blog for any length of time, you probably know how much I love Swagbucks. This is one of the easiest ways to earn gift cards to go towards your Christmas budget each year, and it's a company I've been using to earn gift cards for years now!
Like I mentioned above, Swagbucks is not just a survey site. It's much more than that! In face, Swagbucks started out as solely a search engine, over the past few years, they've morphed into much more. They now offer many different ways to earn more Swagbucks making it much easier to earn enough Swagbucks to cash in on their prizes. Some of the most popular ways to earn Swagbucks are doing online searches, signing up for offers, printing coupons, completing special offers, or taking polls.
The Swagbucks that you earn can then be redeemed for a variety of different free items, such as Amazon gift cards, Starbucks gift cards, and much more!
More Swagbucks Resources:
2. Shopkick – This is something I recently got back into, and it is such an easy way to earn gift cards! To get started with Shopkick, you simply download the app, turn on Bluetooth, and walk in to stores.
You'll get "kicks" just for walking in, which you can then trade in for all kinds of different gift cards, including Starbucks, TJMaxx, Target, Walmart, Old Navy, Best Buy, Lowe's, Macy's, Barnes & Noble, and more!
I love Shopkick, because it's something you can do on the side while you're already out running errands or getting shopping done. Go here to get all of the details on this super cool money-making app!
3. Ibotta – This is one of my favorite money-making apps, and it's a great way to save money on groceries and more — without clipping coupons! With this app, you'll get cash back on grocery and retail purchases. Go here to learn everything you need to know about Ibotta.
How to Make it Work For You
So what's the trick to funding your Christmas budget in just 15 minutes per day? Don't try to do too much. Pick a few ways to earn, and stick to them consistently throughout each week. Over time, the trickles of earnings will add up to multiple gift cards per month to add to your Christmas fund!
Here is just one example of how to easily add $25+ to your Christmas fund each month:
1. Spend no more than 5 minutes each day using Swagbucks to easily earn enough to trade in for a $5 Amazon gift card each month.

2. Spare an extra 5 minutes to Shopkick at stores that you are already shopping at or that you're nearby. You can easily earn at least one $5 gift card per week with Shopkick by walking into stores and scanning products — without putting hardly any extra effort or drive time into it.

3. Download Ibotta and cash in for rebates on products you're already buying when you grocery shop! Earn at least $20 in rebates before Christmas to cash out, and add it to your Christmas fund! This requires very little extra time each week when you shop.

4. Sign up for one or two legitimate survey companies, and carve out 10-15 minutes each day to take surveys. Try for the ones that have the most earning potential for the time put in.
As you can see from this example, you'll earn at least $25 in gift cards each month by investing 15-20 minutes per day at the most! And if you have extra time and you're pretty serious about funding your Christmas budget, you could really up your earning potential!
Looking for additional creative ways to add to your Christmas budget this year? Check out this article on Easy Ways to Make Money Online for the Holidays!
Other Articles You Might Enjoy:
(Note: The links in this post are affiliate links, and we will be compensated when you make a purchase by clicking through our links. Read our
disclosure policy here
.)