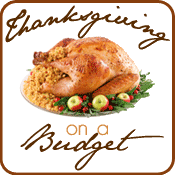 Remember I told you that Erin from 5DollarDinners and I had a special treat for you this week? Well, welcome to our week-long series, Thanksgiving on a Budget.
There is great temptation to feel like you have to prepare a ten-course gourmet feast for your loved ones for Thanksgiving. It seems almost everywhere you go right now, you are bombarded with images of elaborate spreads of gorgeous stuffed turkeys lined with rosemary and oranges surrounded by all the trimmings.
While these images might be beautiful, more often than not they can make you feel that unless you recreate such an extravagant affair for your Thanksgiving feast, it just won't be good enough. The reality, though, is that most of us do not have the time or the money to pull off a magazine-like Thanksgiving spread.
And we're here to tell you that that is perfectly okay. In fact, we'd like to encourage you to make your Thanksgiving celebrations simple and economical this year. Erin from 5DollarDinners and I will be teaming up to share some of our favorite frugal Thanksgiving recipes. Whether you're an experienced cook or a novice in the kitchen, we hope that our recipes, tips, and photo tutorials will inspire you to pull off your own "Thanksgiving on a Budget".
We've also solicited the help of Monica from TheHomespunHeart for some inexpensive Thanksgiving decoration ideas which you'll not want to miss. And after we've shared our favorite recipes, we're going to be enlisting your help on Friday.
We'll open up the floor here with a Mr. Linky and encourage you to post your favorite frugal Thanksgiving recipes or ideas on your blog and then come back here to share your link with everyone else. We look forward to reading all your frugal recipes, tips and ideas for
making this Thanksgiving both frugal and festive! 
It is our desire that this series will help relieve some of the "pressure" that is placed on you to create
the perfect meal on Thanksgiving Day. And we hope you are able to instead focus more on what Thanksgiving is really all about–taking time to give thanks for all of the blessings we have been given!
**********************
Note from Crystal: By the way, if you are not a regular reader of Erin's blog, 5DollarDinners, may I encourage you to head over there right now and add her feed to your reader?
Erin feeds her family of four every night for, you guessed it, $5! And her recipes are not only simple and delicious, they are also quite healthful. Her menus serve to clearly dispel the myth that you can't feed your family healthfully on a budget. Read more here about Erin and how she feeds her family for $5 every night.