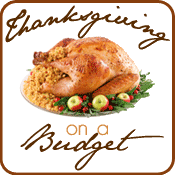 Guest Post by Monica from The Homespun Heart
Paper is one of my favorite crafting supplies because it is inexpensive and the variety available creates endless possibilities! Here are some ideas to jump start your Thanksgiving table decorating this year:
::Turkey coloring books::
Details on how to make these are here. All you do is print the template, cut it out, and glue together! Bring this idea
to the grown-up table by placing one at each plate. Provide pens or
pencils to jot notes of thankfulness to each other!


Image from Martha Stewart Living
::Silhouette Table cloth::
Instructions for making this are here. I
haven't made mine yet as I'm not sure how to store it until
Thanksgiving–but I will have my silhouettes all cut out and ready to
go for my littles table!
Bring the silhouette idea to the
grown-up table by creating napkin rings, decorations and place cards
(take it a step further by creating silhouettes of your guests!):
::Silhouette Napkin Rings::
Use
the templates provided in the silhouette tablecloth link above to make these. Glue to a piece
of cardstock and staple at the back. Slide over your napkin!
::Silhouette Place cards/table decor::
Hot glue a length of ribbon around a canning jar and glue silhouette onto ribbon.
Or, glue silhouette to a stick (from your yard!) and insert into a small jar or votive holder filled with unpopped popcorn.
Create
varying heights with jars, upside down sundae dishes, juice glasses,
or anything that is clear or coordinates with what you want to use! You
could also opt to put one of these at each place for name cards!
You
could also have a little stack of these silhouettes cut out with holes
punched in the top and string tied on. Provide chalk for guests to
write things they are thankful for and hang on a branch from your yard
to create a Thankful Tree!



::Turkey Trivia Place Cards::
Details on how to make these fun little turkey quiz decorations are here. Find some interesting turkey facts here and here.



::Napkin Rings (inspired by Country Living November 2006)::
To make these, cut a small piece of cardstock and decorate with rubber stamps, stickers, or just write a short message. Punch a small hole in each end of the cardstock. Pull
a ribbon through one end, and then through the other. Tip: if you cut
the ends of the ribbon in a diagonal, they will be much easier to get
through the small holes.



::Favor Tags::
Make up little bags of some kind of treat and add a festive nametag and bow. I
used these for place cards one year and then let them become the favor for guests to take home as well. By the way, this would be a great opportunity to use some of those sugared pumpkin
seeds!



::"Thankful For You" breakfast::
A
few years ago I started a new Thanksgiving tradition. It is intended to
be a practical way of showing thanks to someone who has been a blessing
to our family over the past year. I prepare an extra batch of our
Thanksgiving breakfast and pack it up festively to deliver to the
recipient. I like the expression of doing something visible to say "thank you" to one of the many people who encourage us throughout the
year.
I make little tags for each item naming what it is and if
there are any specific heating instructions. Then you can package
pancakes and sausage wrapped in waxed paper and tied with twine. Canning
jars make great containers for syrup and nuts. Put them all in a pretty
gift bag and deliver!
Our traditional Thanksgiving breakfast is:
Pumpkin Pancakes (cooked in a maple leaf shaped pancake mold)
Brown & Serve Sausage
Homemade Maple Syrup & Chopped nuts to top pancakes



Pumpkin Pancake Recipe from Martha Stewart Living
Whisk:
1 1/4 c. flour
2 Tbsp. sugar
2 tsp. baking powder
1/2 tsp. each cinnamon, ground ginger, and salt
1/8 tsp. nutmeg and a pinch of ground cloves (I use pumpkin pie spice)
Mix:
1 egg
6 Tbsp. pumpkin puree
2 Tbsp. melted butter
1 c. milk
Fold
wet ingredients into dry ingredients.Heat a buttered skillet over
medium heat; pour in 1/4 c. batter for each pancake. Cook about three
minutes per side; serve with butter and syrup. Makes about 10 leaf
shaped pancakes.
Maple Syrup:
Combine in saucepan:
1 3/4 c. white sugar
1/4 c. brown sugar
1 c. water
Bring to a boil, cover, and cook one minute. Cool slightly.
Add:
1/2 tsp. vanilla
1/2 tsp. maple flavoring
Cover
saucepan for a few minutes as syrup cooks to melt down crystals; helps
prevent syrup from crystallizing later in storage. From the More With
Less Cookbook.
::ABC's of Thanks::
My Mom started this tradition
when we were growing up and I have continued it in our home. Print this

template, cut the columns apart, and tape together in one continuous line.
Mount on your wall and enjoy giving thanks for God's many blessings!
And here are a couple of other ideas I haven't made before, but think are full of possibility:
Paper Turkeys
Mayflower Centerpiece
Have you made any Thanksgiving decorations with paper? I'd love to hear your ideas!
Monica enjoys blogging about the simple pleasures of faith, family and home over at The Homespun Heart.
___________________________
Note from Crystal: If you happened to miss Monica's previous guest post with lots of fun ideas to do with pumpkins, you'll want to check it out here. There's likely something there you could also incorporate into your Thanksgiving menu or decor ideas. Also, don't forget to check out Monica's brand-new online boutique, The Rusty Robin.