Marie from Make and Takes shared this fun (and frugal!) idea for a way to recycle your old grocery ads into playtime menus for your children:
Supplies for Grocery Ad Menus:
grocery ads – the kind that come in the mail
scissors, glue, color pencils, art paper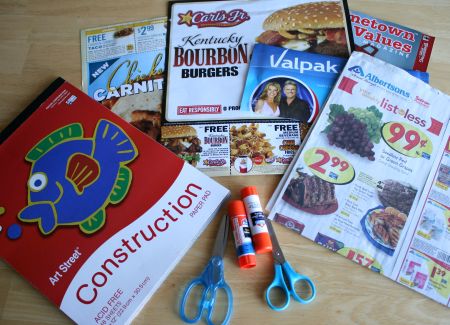 First, gather all your grocery ads. Let the kids look through and see what items might be good to have in their menu, then cut them out. If your child is ready to use scissors, go for it but with supervision if they're small. Or you can have them point to the items they want and you can cut them out.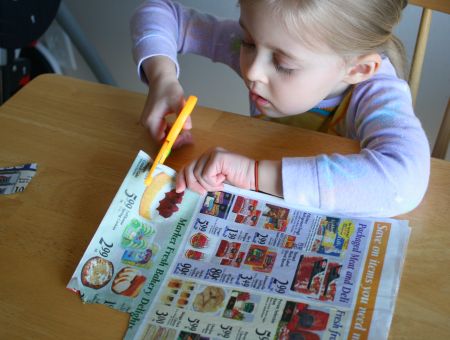 Next, fold a piece of art paper in half vertically. Glue the cut out food items onto the paper in a line. Now write in each price.
My son loved making up how much everything cost. He wanted to make the steak "1 Free" and the ice cream is $20 because it's sooo good. We even named our restaurant, LeBaron's Family Restaurant, with "Todays Special" as Shrimp, my son's favorite food. Have fun playing Restaurant!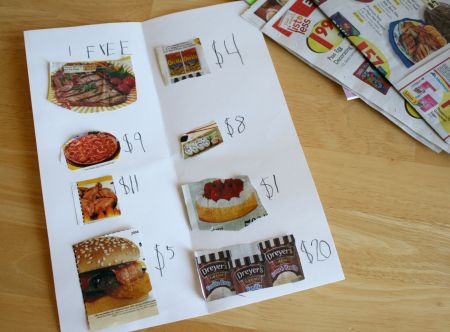 Marie is a crafter, foodie, and mother of 3. She loves running, reading, and eating candy. Check out her blog Make and Takes for more Ideas and Crafty Tidbits for Home, Family, and Fun.