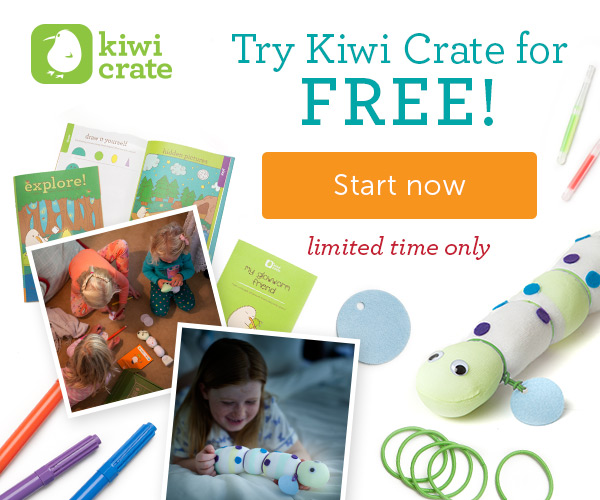 Just a few days ago, my friend, Jessica who blogs at The Mom Creative, was asking me if I'd tried out Kiwi Crate before. She was telling me how much her kids love it and how much her readers love it, too!
This is a bit of a different offer than I typically sign up for myself or post about here, but because she spoke so highly of it, I decided I'd check it out.
Well guess what? I discovered that Kiwi Crate was offering a free Sample Box right now — for just the price of shipping ($3.95). This sample box has all of the materials and instruction for you to make one fun project with your child.
This sample box's project is to Make a My Glowworm Friend. You'll create your very own snuggly glowworm friend that really glows. Your kids will learn all about the glowing animals that light up the dark.
The Glowworm Friend Kiwi Crate Sample Box includes:
All the materials to build your very own glowworm
Set of fabric markers to decorate your snuggly friend
One-of-a-kind glow in the dark sock
Bonus firefly foldout project with set of glow sticks
16 page explore! magazine filled with puzzles, DIY activities and kid-friendly recipes
This is a great way to try out Kiwi Crate for just a few dollars out of pocket.
But here's the catch: You have to cancel your subscription within 14 days after your Sample Box ships or you will be charged $19.95 per month to receive a sample box of 2-3 projects similar to this one.
Except for Amazon's Subscribe & Save, I usually don't post offers that require you to cancel after your first order ships. Why? Because I don't want some of you to forget and then get charged for something you weren't expecting to pay for.
So promise me that you won't sign up for this unless you also will cancel it if you don't want to receive the monthly boxes, okay? I want to help you save money not cause you to spend money unnecessarily!
I'm signing up to try it out with Silas. He LOVES these types of educational crafts and I thought it would be a fun Kindergarten project to do together. I plan to post a review after I receive the box to let you know my thoughts on Kiwi Crate and whether it was worth the expense or not.
Have you tried Kiwi Crate before? If so, I'd love to hear your honest thoughts about it.
Your free trial project will ship within two business days. You will have 14 days after your trial project ships to cancel your subscription. If you choose to not cancel, you will be charged $19.95/month (see our FAQs for details) and receive 2-3 new projects per month with your Kiwi Crate monthly subscription. You may cancel at any time. Offer only available to U.S. residents.