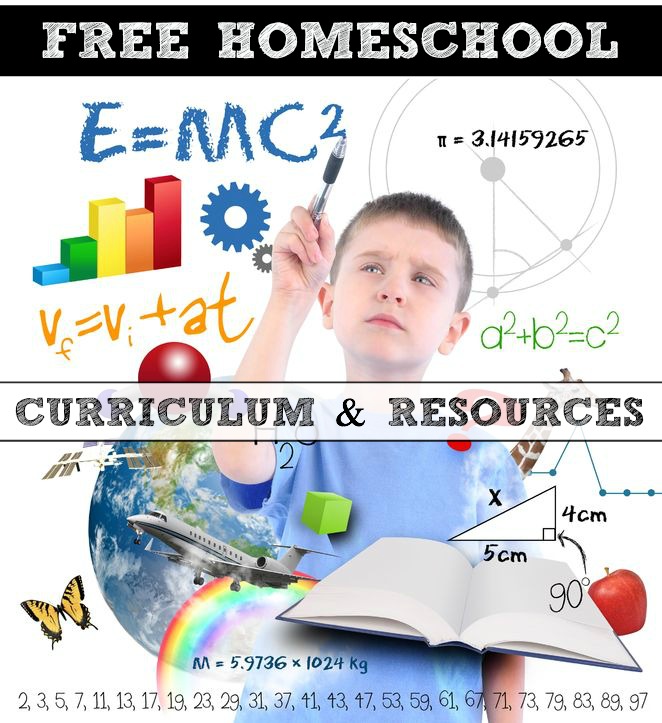 This is the weekly list of Free Homeschool Curriculum and Resources compiled by Jamerrill from FreeHomeschoolDeals.com. If you aren't a homeschooler, but you're a parent, teacher, babysitter, or nanny, you'll probably find at least a few useful freebies in this list. You may also want to go through the Educational Deals and Freebies from earlier this week for more.
Spring has sprung, well at least online it has. This week we began seeing a variety of spring themed learning packs as well as Easter and Resurrection printables. However, we have not forgotten those of you who are just looking for the basics. So read on and grab a few goodies!
St. Patrick's Day Themed Learning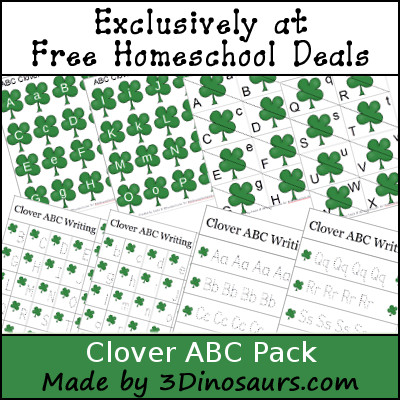 While there are other St. Patrick's Day themed learning resources farther down this list, below you will find some fun printable packs to get you started!
Preschool
Here is a FREE Updated Preschool Daily Learning Notebook, great for meeting time with toddlers.
Have fun in the medieval times with this FREE Preschool Activities: Castles, Catapults and Shields Printables.
Can you ever have enough busy bags? Learn the alphabets while playing with this FREE Preschool Alphabet Busy Bag Printables.
Fine motor skills are a must for preschoolers. Here is a great Free Fine Motor Skills Printable Pack (100 Pages!).
Prewriting skills make learning to write even easier. Try this FREE Pre-Writing Printable.
Bible Based Learning
Get into the Word with this FREE LEGO Easter Story Challenge and Printable, these FREE Names of God Card Printables, and these FREE Printable Verse Cards.
Wondering how to talk to your child about Heaven? Here are FREE Talk to Your Kids about Heaven Printables.
Math
Grab these FREE Shamrock Math Multiplication Printables before they expire on 3/14/15.
Here are FREE Skip Counting by 5 Clip Cards Printables to practice multiplication.
Review or learn the numbers 1-4 with this FREE Romping and Roaring Numbers 1-4 Review Pack.
Make math time fun with a FREE Multiplication Spinning Game Printable Worksheet.
Science
It's never too early to start chemistry with these FREE Chemistry for Kids Printables and Activities.
Toddlers will enjoy this FREE Printable Bug Hunt Activity.
Puzzled about where to start with Biology? Snag this FREE 35 Page Cell Unit Study – Limited Time!
Reading and Phonics
If you are teaching reading in a phonics based program, you may want to know what Phonics Rule is Busted: When Two Vowels Go Walking and why.
Practicing sight words is a fundamental skill when learning to read. Use these FREE Romping and Roaring Primer Sight Words (set 5).
This FREE St. Patrick's Day Literacy Pack (subscriber freebie) is not just for fun, it also includes many educational resources as well!
History and Geography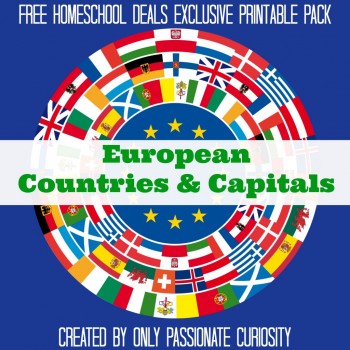 Studying world history? Here is a FREE EUROPEAN COUNTRIES AND CAPITALS PACK (instant download).
March is women's history month, and here is a FREE 29 Page Women's History Notebooking Page Set to start you off right.
Random Homecshool Goodness
Did you know that sometimes children learn cursive easier than print? Here is a FREE Kindergarten Cursive Verse Handwriting printable so your child can give it a try.
Learn how to read a story so it comes alive with this FREE The Storyteller Tips ebook (subscriber freebie).
Here are 25 FREE STEM Books for Your Homeschool and FREE Homeschool Resources for High School.
Don't miss this FREE Spring Printables Pack (33 pages!)
Click here thousands of homeschool freebies!
*Don't forget! If you are looking for additional free homeschool resources please check the huge growing list of free homeschool curriculum and resourceson MoneySavingMom.com!
Jamerrill is the homeschooling mother of a large and growing family. After seasons of spending $50 or less annually to homeschool her children, she started Free Homeschool Deals in 2012 to help all families afford the homeschool life. You can follow the homeschool goodness on Pinterest and Facebook.