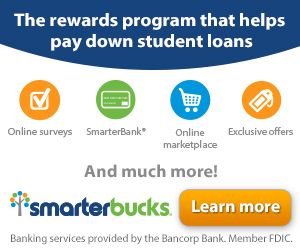 Post written by SmarterBucks
What's the catch? Is this too good to be true? These are some of the questions that we regularly get about SmarterBucks.
SmarterBucks is a free program that allows you to earn rewards that help pay down your student loans. While this isn't an eliminate-your-student-debt-in-one-fell-swoop kind of program, SmarterBucks promises that there's no catch. Just an innovative approach to rewards from a company that's dedicated to getting you out of student debt faster, one dollar at a time.
Understanding the program is the first step in taking advantage of it, so here's a quick tutorial on how it works:
Step 1: Sign up for SmarterBucks. It's free and only takes a couple of minutes.

Step 2: Designate a loan in the SmarterBucks system. Before your rewards can become extra student loan payments, you need to tell SmarterBucks which student loan you want to pay down first. The program accepts all types of student loans – federal or private – and even has tutorials to walk you through the process of finding the name of your loan servicer (the company who manages your student loan repayment) and deciding which student loan to pay down first.

Step 3: Earn SmarterBucks rewards. There are currently six ways for users to earn rewards, all designed to integrate with the spending and activities you do already:

SmarterBucks Marketplace:

Shop online through the links found in the SmarterBucks Marketplace. You'll earn anywhere between 1%-16% back in SmarterBucks rewards on your purchases. Retailers include Target, Walmart, J.Crew, Bath and Body Works, Groupon, and hundreds more.

SmarterBucks Surveys:

Take online, brand-sponsored surveys and earn anywhere between $1-$5 in SmarterBucks for each survey completed.

SmarterBank® Visa® Debit Card (optional):

To earn rewards on all your everyday spending, apply for a SmarterBank® Visa Debit card and earn SmarterBucks rewards with every non-PIN purchase made with the card.

Gifted Rewards:

Get friends and family in on the action by asking them to earn rewards on your behalf as a SmarterBucks Gifter.

Contributions:

Instead of birthday or holiday presents, ask for one-time or recurring cash contributions direct to your SmarterBucks account.

Monthly Giveaways:

All SmarterBucks member are automatically entered into SmarterBucks' monthly student loan payment giveaway, worth anywhere between $1,000-$2,500 in SmarterBucks.

Step 4: Watch your rewards become extra student loan payments. Each month that you have earned at least $15 in rewards, SmarterBucks will automatically make a payment on your behalf toward the student loan that you've designated in the system. Earnings under $15 are rolled over to subsequent months, and there are no earning caps or blackout dates.

Step 5: Get out of debt faster and for less. Every dollar you contribute in SmarterBucks, on top of your regularly scheduled payments, is worth up to 2-3 times that amount in interest savings over the life of your loan. So not only are you repaying your loan faster, you're also saving money.
If you want to learn more about SmarterBucks, check out the SmarterBucks website or read how real SmarterBucks members are taking advantage of the program on the SmarterBucks Blog.