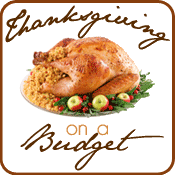 Homemade Pumpkin Pie
by Erin at $5 Dinners
Crust Ingredients
1 cup all-purpose flour
½ teaspoon salt
1/3 cup shortening or butter
2-4 Tablespoons COLD water
Preheat oven to 425 degrees. Place flour in mixing bowl; add butter and cut in with pastry blender.
Add salt and then add COLD water 1 Tablespoon at a time. Mix/toss with fork until dough ball forms.
Place in plastic wrap or Ziploc baggie and put into the refrigerator
while you make the filling. Make filling (see directions below) while
dough is in the fridge.Take dough ball from fridge and place on lightly
floured surface. Roll out into a circle at least 12 inches in diameter
and gently fold pie crust into quarters.
Move pie crust from counter to pie plate.  Unfold. Flute edges in your favorite design. Pour filling into pie shell. Place pie crust shield over the top or use foil to make a shield to keep the crust edges from burning
or turning dark brown while baking. Bake pie at 425 for 15 minutes. Then reduce heat to 350 and bake
another 40-50 minutes, until center of pie is done. If
you want a darker crust, remove the foil or pie crust shield 10 minutes
before pie is finished.
Filling Ingredients
3/4 cup granulated sugar
1/2 teaspoon salt
1/2 teaspoon ground ginger
1/4 teaspoon ground cloves
1 teaspoon cinnamon (You can substitute 2 teaspoon of pumpkin pie spice for above 3 spices)
2 large eggs
1 15 oz. can pure pumpkin
1 12 oz. can evaporated milk

 

Place all ingredients in baking bowl. Blend with mixer or stand
mixer on low for 2-3 minutes. Set aside until pie crust is prepared
and pour into the pie crust. Cost: approximately $2.50 to $3 per pie
Our Favorite Apple Pie
This is one of our family's very favorite pies. If I'm able to snag a good deal on apples, this is one of the first things I think of making. It takes a little bit of work, but once you've made it, it's so worth it! And Thanksgiving wouldn't quite be the same without this pie–though it's great year-round, too!
(Confession Time: I had every intention of making up a fresh pie and
taking pictures of it for you, but time slipped away from me this week.
So I'll just let you imagine how beautiful this pie turns out! Think
something like this.)
Pie crust (uncooked, see recipe above or use your favorite recipe)
6 cups thinly sliced, peeled cooking apples (about 2 1/2 pounds)
3/4 cup sugar
2 Tablespoons flour
1/2 teaspoon ground cinnamon
1/8 teaspoon ground nutmeg
Crumb Topping:
1/2 cup flour
1/2 cup packed brown sugar
3 Tablespoons butter
Prepare and roll out pie crust. Line pie pan with it and flute edges. In a large bowl, stir together sugar, flour, cinnamon, and nutmeg. Add in apples and gently toss until coated. Transfer apple mixture to the pie crust. Dot apples with butter. Set aside.
Prepare crumb topping ingredients by stirring together 1/2 cup flour and 1/2 cup brown sugar. Using a pastry blender, cut in 3 Tablespoons butter until mixture resembles coarse crumbs.
Sprinkle crumb topping evenly over apples in pie pan. Cover edges of pie with foil and bake at 375 degrees for 40 minutes. Remove foil and bake 20 minutes more or until fruit is tender and filling is bubbly. Cool on a wire rack. This is especially delicious served with freshly-whipped cream or Breyer's vanilla ice cream. Delicious!