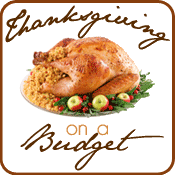 Note from Crystal: For the record, cranberry sauce would also be an area my minimalistic nature would nix. (I know, I know, some of you are probably thinking you'd never want to eat Thanksgiving Dinner at my house by now, seeing as I already said I think stuffing is a non-essential, too!)
However, I know that to many of you, Thanksgiving wouldn't be Thanksgiving without cranberry sauce. And so I present Erin's Orange Ginger Cranberry Sauce:
Homemade Orange Ginger Cranberry Sauce
by Erin at $5 Dinners
This sauce costs approximately $1.50 to make one batch. Not only is it fairly frugal but it' also doesn't contains any preservatives or additives!
1 lb. fresh cranberries (these are on sale at Aldi this week for $0.99!)
1 orange, juiced
½ teaspoon of ground ginger
¼ cup sugar
Rinse cranberries. Pick out any cranberries that are white in color or have "gushy" spots. Place cranberries in sauce pan with 2 inches of water, or apple juice. Boil for 10 minutes, then reduce heat and let simmer for 5 minutes to allow the sauce to thicken. While boiling, add the juice from one orange. I squeeze it over a strainer to prevent seeds from dropping into the sauce. Add 1 teaspoon orange zest to the sauce. Cranberries will "pop" while boiling!
Add ¼ cup sugar to the cranberries. Alternative sweeteners include apple juice concentrate, orange juice (from a sweet orange), honey, Stevia or Splenda. Add more sweetener for sweeter sauce, or less sweetener for a more tart sauce. Add ½ – 1 teaspoon of ground ginger. Allow sauce to sit for at least 10 minutes to "thicken" a bit more.
Other mix-in ideas: fresh apples, cooked with the sauce, or raw for some crunchiness; walnuts, pecans or other nuts; crushed Pineapple.
Just for fun: Do you usually serve cranberry sauce at your Thanksgiving dinner? If so, do you normally serve homemade or store bought?